Garrett s (Crenshaw s) CH JEEP ROM, Patricks TOMBSTONE (ROM)

A Video about Pat Patrick and the Great dogs that have come and gone:







Video about CH JEEP ROM:
Garrett s (Crenshaw s) CH JEEP ROM
In all history of athletic America Pit Bull terriers none of the dogs have been such a hit but Champion Jip. He was a combination not only qualities of excellent fighter but also a wonderful breeder. Jip was bred by James Crenshaw and as being a young dog this dog was sold to James Garrett. Garrett raised him and made famous.
His fourth victory James achieved over Ozzie Steven`s CH.Homer. This match entered analogues, because the caliber itself of these two dogs that met in pit is unusual in itself. Though Jip won, Homer proved that he himself was a good fighter and both dogs were admitted to breeding. Now, when are familiar with frightening worth of Jip, you are gonna get acquainted with active of this male, with his breeder's qualities.
He gave a variety of Champions, one grand Champion and plenty of one and double winners. Conversation in many conventions is mainly about great dogs and it is a discussion of best lines, which should be used in breeding in order to get the highest percentage of game and winning dogs.
When the discussion had respect to Jip and his ascending the first place in the list ROM, there always was one and the same question: Have not you counted how many bitches were paired with him? There is an answer to these dogmen: Take the best three fighters with excellent breeding, such as STP`s Gr Ch Buck, four-times winner STP`s Ch TORO and BURTON`s Gr Ch Hank.
They were the representatives of the three different bloodlines and were considered distinguished fighters. Many dogmen tried to use their bloods for naming single lines. All the three lived equal in duration life lasting for 10 years. The tow lived and died approximately at one and the same time, Champion Toro (Ch Toro) and grand Champion Gr Ch Hank .
Hank carved his pit career earlier that the two others and was paired as many times as Jip, and probably more. Grand Champion Gr Ch Buck is second best after Hank in amount of matings. The next is Toro. The gist of it is that all these dogs together produced twice as little Champions as Jip.
There are well-known crosses when Jip gave several good dogs and they are Jip/Red Boy and Jip/Rascal. As well it is informed that there are two more Champions from Jip, for which there must be added 2 more points to his existing 16 points in the list ROM.
Further there is biographic information.
Champion Jip was born in August 1976 in the yard of James Crenshaw, in the famous offspring of Finley Champion Bo ROM and Crenshaw Champion Honeybunch ROM. This mating gave 4 Champions. Champion Jip ROM became most famous from them.
Among his siblings there also were Crenshaw Champion Charley that was considered the best fighter in the ring even as compared to Jip; Champion Missy who is present in pedigrees of many todays dogs, Sweatman Champion and Holly, who was terrible biter with great potential. It was a great mating and was done just once and the reasons are unknown.
Many find Jip one of the best match dogs of his time. The dogs which he defeated:
Pelant Champion Kato in weight category of 43 pounds for 28 minutes.
Cooper WINI in the same weight category of 43 pounds for 58 minutes.
Stinson and Step Black Dog (it is rumored that was three time winner on the weight category of 42 pounds for 2 minutes 5 seconds).

And his fourth final match was against Oozy Stevens Champion HOMER in the weight category of 43 pounds and he won it for 3 min 45 seconds. It was one of that classic matches due to which the history of pit- sport is set. Two great dogs met and only one of them could win.


Patricks TOMBSTONE (ROM)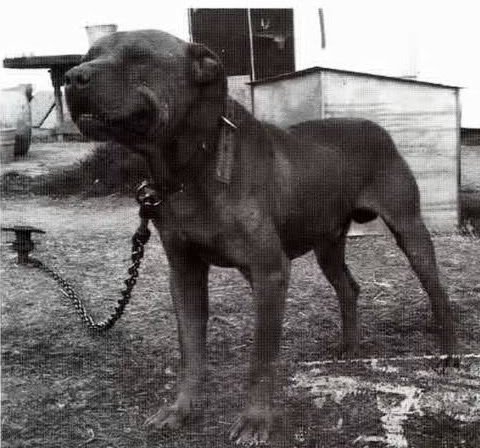 Patricks TOMBSTONE (ROM)


TOMBSTONE had the deepest game, -game that was not present not nearly in every dog! GAME and match talent were distinctive features of Mayfield's dogs. Indeed only a wonderful fighter could win from a TRUE ace –Bullyson young! Bullyson young was a really great fighter and the first 45 minutes of match were like to hell!

Bullison young did not go away and fought until the end as a great soldier! It is because he was a true ace! After the victory over Bullyson, Jr. TOMBSTONE was open during 1 year but to no purpose. After that Mayfield sent him to Patrick, who in his turn used this dog in breeding very successfully.


Unfortunately, TOMBSTONE was infected with heartworms which were almost impossible to treat then. But existing method of treatment could lead to the dog's death. Patrick decided not to interfere with this disease and leave this as it was in order not to venture the dog's life. TOMBSTONE lived 62 "human years."

For his not long years he was managed kingly, because he was a true king of Pit! Grandeur of NOMBSTONE was felt from his appearance! It is very important to mention capabilities of TOMBSTONE as one of the best who produced superior dogs. TOMBSTONE is known to be the father of 6 Champions in 1985. Now TOMBSTONE has 7 points in the list ROM.

You may think that TOMBSTONE gave so many champions because he was paired many times. But this is not like that. TOMBSTONE got the title ROM after his death. Sir Mayfield in his article about TOMBSTONE narrated that he sold the dog right after his victory over BULLYSON young, but Patrick asked that he might organize one more match for TOMBSTONE, but during entire year nobody made a decision to dare to a fight, in spite of the fact that there were a lot of dogs available under this weight category, besides 7 Champions.

TOMBSTONE was a father of many excellent dogs and 1-2 of them were winners. He was also a father of several dead game dogs and two five time winners. His daughters Pool's TERESA and Lewis' GR CH HOPE time after time proved that they were great bulldogs! There is a doubt about someone's seeing HOPE in full play as well as her abilities and game!


CH SAVAGE was a sibling of GR CH HOPE. He fought with famous HOMER and lost DEAD GAME. Their sibling CH TUFFY defeated a very strong rival selected intentionally in order to win from Done Maloney. It may be said that he won by one game! Maloney`s DOZER, a son of TOMBSTONE and DOLLY lost to Anderson`s RED BARON 7xW for 3 hours and 10 minutes!

Definitely if mister Mayfield had seen the Match with participation of DOZER and RED BARON, he would have agreed that these dogs were the gamest bulldogs in the world! Mister Mayfield and his Japanese friend came to agreement in the issue of "GAMEDOG DIGEST", that TOMBSTONE's son –CH TONKA was a very game bulldog! As a breeder CH TONKA has 10 Champions!

Showalter`s ROOSTER came off a loser for 2:25 since not less long victory the day before. Philip's TRADER lost for 2 hours and got a very honorary reward "BEST IN SHOW"! But on the day of show arrangement it was more than12 claimants for this reward! Both of them are grandsons of TOMBSTONE.

One could continue this list naming more and more wonderful dogs of TOMBSTONE LINE. But because these dogs "speak" about themselves better than any person, it is necessary to put a full stop.



Patrick Tombstone's Online Pedigree: http://www.apbt.online-pedigrees.com/modules.php?name=Public&file=printPedigree&dog_id=11


Anderson`s CH TONKA

Anderson`s CH TONKA


Mayfield`s TOMBSTONE ROM и Patrick`s RED BABY ROM.
Pat Patrick paired Tombstone with Red Baby twice at 10 months interval. And these two matings gave 8 winners to sport! The most famous became CH TONKA, CH SNUBBY и CH CRUSH. And all the remaining dogs from these matings were also involved in the big game.
CH TONKA
and
CH SNUBBY
were produced still during first mating of
TOMBSTONE
with
Red Baby
. Yet being young he was sent to
Danny Burton
, but
Danny
sold him to
Ronny Anderson
who was very glad about this dog
TONKA
that defeated very good dogs.
CH Tonka
dog the reputation: some of the best match dogs in the country. All the three matches
Tonka
had one and the same weight-34 pounds. This wonderful small Soldier possessed the strongest bite and was the best as for his destroying passages into the nose. But when viewed from any side he was excellent!
Ronny Anderson
used Tonka as one of his major breeders and had considerable financial profits from his matings.
Tonka
was very popular. When
TONKA
was 8 years old,
Pat Patrick
bought him out from
Ronny
and began using in his breeding program.
And
TONKA
went down in pit-sport history and not only as an outstanding fighter but also as a fantastic breeder of superior match winners! Still being in
Ronny
,
Tonka
gave several Champions and 2W, 1W. But
Ronny
and many other professionals did not trouble themselves with registration of the matches in SDJ, and just that prevented
TONKA
from having official title ROM unfortunately.
Champions produced by
Tonka
earned their victories during heaviest matches against the strongest rivals! It is very much possible that there were several champions among
Tonka's
sons but
Pat Patrick
is not aware of this but is able to tell something interesting. So, in Florida it is a bulldog named CH BUCEFUS 8W who won 8 victories and lost only one game match.
Bucefus was sent to
Don Maloney
and his father turned to be
TONKA
! It is known well about CH SHAWN 4W/1, who won in 4 heaviest matches and lost gamely. Only for
Ronny
Tonka
gave
CH JODY, CH BUCK, CH SISSY, CH BILLY, CH WILLY и BOOGER
( *
CH SHAWN и CH BILLY
were produced by
Tonka
and daughter of legendary
GR CH RED BARON 7W
, after that one of the most stable cross of
TONKA/ RED BARON
was made, later on successfully working with
CH ALLIGATOR
line).
Tonka
also produced many
2W
and
1W
, which did not achieve their titles according to different reasons (teeth, diseases, were used in breeding).
Ronny
had a bitch named
ALBURN
, which he bought from
Raymond Holt
).
Alburn
was produced by
Holt`s Red Nick
and
Tonka's
female sibling.
Pat Patrick
himself owned one dog from
Tonka* Alburn
, her name was
Anderson`s ROSE
.
He used her in breeding and all her born dogs were game without doubts.
Anderson`s Alburn
, except her ability to give excellent match dogs, was a wonderful fighter.
Pat Patrick
himself sold several puppies from
Tonka* Alburn
and his clients were always content. It is difficult to establish how many dogs were winners, but it is sure they were numerous!
Booby Smith
has
RED ROCK 2W
( legendary fighter), who distinguished himself by his bite, game and unique match capabilities.
Red Rock
was got from of the last matings of
Tonka * Alburn
. Indian
Gary
has a male from
Tonka * Alburn
-
Anderson`s BEEMER
. Here an interview of
Gary
about his dogs born from
CH TONKA
:
Dear Pat,
I want to tell you about my sons and daughters of CH TONKA…Indian Gary`s Hagler (Andersob`s Beemer) was a winner twice, and then retired because heartworms were found in him. He stopped Lenny`s COWBOY for 37 minutes, but in the second match defeated Ohmar`s CHAMP 2W for 2:20! After long rest, I started to prepare him for the third match, but heartworms precluded from pushing the matter through. Three months I kept him at home, but his disease became sharper and I had to continue treating him seriously. Unfortunately, I had to disannul the third match of HAGLER, where I planned to prove that he is true game champion and worthy CH TONKA's son and i had nothing to do but to pension him off. Now HAGLER is 10 years old and he is a sire # 1 in my yard-son of TONKA and ALBURN! I also owned Indian Gary`s TULSA –the daughter of CH TONKA x ALBURN, which is of Sherwood's breeding.

Tulsa was never been used for match, but she proved her game in role with Big Bud`s MONEYBY who dominated but TULSA did not make a step back! I myself tested TULSA when bought her from Dennis-a Mallemee and she proved not only her gameness but also the ability to tear her rival after that she was suffered from hard beatings! All the testing lasted for more that 1 hour. TULSA showed everything; unlimited game and destroyer's strength! She gave birth to three Champions: K.C. `S CH OKIE, K.C.`S CLAYTON, one female-Champion ( do not remember her nickname now) and several 1W, 2W and among which was a famous Big Bud`s ARMISS 2W, who was a true friend for us with Big Bud. It is worth mentioning about FLUFFY 2W and two murders that stopped the dog of CH JEEP ROM line in classical match lasting for 1:14! Being in fullest passive 9 just the same as his mother) FLUFFY managed to kill a very strong contestant. Later I changed TULS for Big Bud`s MAUDIE (she was born from CH TONKA x TESSY), young dog, which Big Bud got from Pat Patrick. When she was 2 years old I was testing her with GoGo (HAGLER x Heinzl`s Pumphin). Maudie immediately caught hold of GoGO's jaws and when we released them, GoGo lacked 2 incisors. That time I failed to see Maudie in difficult situation. Therefore I used one more daughter of Hagler, her name was Tequila. Tequila set about to handle Maudie hard, but she not a speck lost courage and responded with similar severity. They traumatized each other and we decided to separate them.

But Maudie wanted more and more! And then we delivered another dog to her in order to see if she went towards the new rival and she did like a shot! I immediately got her down and kissed this match for her father over! Maudie had not to enter the ring for earning money, because I had to go on "undesirable" leave during her treatment after such heavy experience. Now I will be using her in breeding as the worthiest continuator of this wonderful CH TONKA's line! Your friend Gary".
TONKA
also produced a dog which became a Champion in Holland, but unfortunately her name is unknown.
CH TONKA's
sibling-
Wilson`s CH CRUSH
appeared in Mexico and his line is very popular there.
CH TONKA's
sister -
Uptown`s CH SNUBBY
was sold and brought to New York and her son
CH LOCKER
was one of the best dogs working into the throat and which
Jack Kelly
ever met.
About 7 years ago
Keith William`s
from Oregon bought young bitch which was produced by
Patrick`s
TOTTO JIM
–game sibling of
El Dos Bits Cortaro
, but her mother was
Patrick`s
RUBY.
Ruby
was from
Bull Boy Bob ROM
and
TUFFY
.
Keith
named her
RIBIN
.
He got an offer to pair
RIBIN
with any of
Patrick's
males and he agreed and chose, and paired her with
CH TONKA
, after that Ribin with full barrel of puppies was sent to him by
Patrick
!
Keith
raised this
CH TONKA * RIBIN's
offspring which is famous now, where all the dogs turned to be game ones! Out of this offspring was
DRILLER 1W
(who is still living in
Keith's
)
SABRINA 1W, STREAKER 2W
and LEGENDARY Otter`s
CH TONKA BEAR ROM
!
Cary Mickel
(OTTER KENNELS) acquired
TONKA BEAR
and
INDIAN MOON
when they were still very young.
INDIAN MOON
appeared to be very game dog and wonderful breeder!
Gary
personally brought
TONKA BEAR
towards Champion title. Now he applies the dog in his breeding program.
At the present time the record of the dogs produced by
Tonka Bear
sums 19 victories!! And only three defeats!
TONKA BEAR
produced
CH BUELA
. (now
TONKA BEAR
has 5 points is in the list ROM ). This young, healthy and strong dog must give still many Champions; in 1995
TONKA BEAR
got the title ROM.
One of
CH TONKA's
puppies was sold to Old Fall Kennel`s in New York and it became famous as
CH TUCSON TUMBLEWEED
. There are now two excellent
CH TONKA's
sons-
Patrick`s
Double T Twister
-this dog was inbred to
CH TONKA
(
Tonka
was paired with his daughter).
Test
Double T Twister
lasted for more than one hour and there were three dogs admitted to this in succession! He is a game one like all the dogs of
CH TONKA ROM's
line. (
Tonka
is unreported ROM).
AVDEEVA`S RED ALERT CH ROM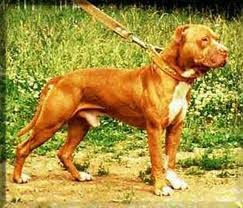 The more time pass since describable here circumstances the more number of foolish stories arise around one of the first grand Champions with title ROM, and consequently, the more eager the people loving athletic dogs to find out the truth about the dog who became a legend.

There was a person going down the street in New York. Most of all he was interested in finding a red-nosed male at the age of 6-7 months in order to improve the stock of the breed American Pit Bull terrier –so the requirements of the client were something like that. And here, ohone, it is good luck! A man in the crowd with a dog on the leash captured his attention. It was pit bull. In any place of the world lovers of the breed get along very easily.


Therefore this man willing to get a nice pit bull got the address of a little-known breeder who exactly had a male for sale-the red nosed dog. But only the age was a problem. A future five-time winner altering predestination of not a one person was just a month..a little more than a month..After hopping the ocean the furred tot could not recover from the shock connected with the other things: food, water, air. Red Alert was taken ill.

At the age of 1.5 month this puppy was still weak but merry and liked to greet people by running towards them. His muzzle was very jolly and pleasant! Red Alert was born in 1993, August 23. According to the horoscope he is Leo. All born under this constellation always demonstrate imperial habits. This dog was not exclusion either. He was a quiet, portentous, loveful dog. Before mating he "kissed" his female and after mating he "kissed a mistress of this female as a token of gratitude.

One day a mistress of the bitch he was paired with left them together immediately after mating in order they could "communicate". Finally the bitch flew away with her broken head to another city. By the way, she appeared to be vacant after this mating. It is a unique case in pedigree work of the kennel where was paired Red Alert-usually all paired dogs here were giving offspring. The public usually is interested in just this matter – how many matings RED Alert made during his life?


Only now it is understood that, unfortunately, there were a precious few expert matings. In the first instance, 7-8 years ago export of racy dogs was not fixed yet. In the second place, properly educated breeders still did not "mature" all around the world. Thirdly, competition was so huge that it went without saying that it did not occur to anyone to think about matings with true dams. People paired dogs on "who will be more eloquent while persuading each other about future mating" or "for a puppy" basis.

The exact number of Red Alert's matings is known but they will not be declared now. People who are involved in dog-business long ago do remember very well about "leaders' of commercial breeding and sale. There were though very seldom true "brilliants of pure bloods" among "Cuban and Yugoslav females". For example, it is Nessy Luiza Nikolos. Unfortunately, only few of the dams could make boast of game, bite, talent for becoming a star of the ring.

Some of them did not ever fight at all, some "jumped out of the ring" and in their previous litters it was the same "jumping" children. But what should be required from the bitches, especially if there is a good prepotent male. Time has proved that there is no mistake. And confirmation to that is "offspring" that can be proud of. The author of this article and she is also an educator of Red Alert was not ever a sympathizer of dog fighting though even her so to say "close acquaintances" talked about fighting career of this dog.


And she is not such encourager either now. Just so happened that the puppy raised by her as her beloved pet, the dog which when asked: "Boy, whose son are you?" chronically climbed her to kiss and eventually he turned to be a fighter. Summer of 1993 was not simple. In order to save up the money for elite red nosed puppy, offspring of Staffordshire terriers was sold, as well as something from clothes…A small red pit bull was maturing on its owner's pillow, slept in her bed. His owner took care of the dog as she could-from draughts, infections.

And she had a turn when was offered to use the dog in the ring. She refused for a long time dogmatically, but a person who brought this dog, immediately said the phrase which affected the issue:" How one can have Mercedes and hold it in the yard!?" At the age of 10 month Red Alert was very active puppy who walked together with other dogs and noway answered caddish accusations of adult dogs. He neither run, nor fell on his back thus exposing his belly as many puppies do, he did not bark.


He just stood and was silent. The contact-partner was found almost immediately. And his partner was a Cuban dog weighting about 40 kg against this 20 kg male. Why such a stupidity was made when a puppy was paired with adult dog whose weight was twice as large as his? But who has ever had a clear idea of such notions as "weight", "failure in seizure", etc? For the sake of objectivity one should mention that some after all were aware of the meaning of these words but preferred "to stay in the background".

However, the owner of Red Alert already knew how to "send out" a dog in the ring. His first contact Red Alert executed as if reflecting. But after grasping screams of dog owners were heard everywhere, passion was involved in the spectacle, in one word with all the trimming. This preliminary hounding lasted for 17 minutes. When the 15 th minute passed the contact-partners were separated and Red Alert made scratch, first in his life. Now it is very funny to watch this record where a puppyish teen-ager runs towards a big white dog embraces her by the neck with both the paws and turns about to her owner.

And in his eyes there is a question: "Mommy, what shall I really do?" The dogs are separated. The second male did not go to the scratch. Red Alert's owner was very proud. The male was extremely happy. His muzzle (by the way very beaten and therefore swollen) kept the expression of placid and absolute happiness. Like as eaglet standing up on the wing for the first time. If you while reading these lines do not believe them at all and are going to rotate your finger at your temple that these are your troubles.

His canine nature was felt by sixth sense. Much time later one person described his experiences acquired from the last the 5 th match of Red Alert…"-When timing of fight exceeded the hours barrier, the dogs were very tired. A much traumatized rival already did not make a stand against. Red Alert kept on holding his opponent. And on sudden, you, his owner stopped "working with him using your voice". It seemed to me, that you are in a faint and gonna fall down upon the ring.

And then I saw that your male looked at you and immediately began fighting with his competitor and that your "second breath" opened and you again set to work as partners. I saw many matches in my life, but none of them was similar to that one. I could hardly check the tears." …After memorable contact the possibility for overcastting a seam arose but this made nothing to his good disposition. He was excited, gay, and "ate" his first success by apples and sausages that were caught along by "new made" pitmen.

Stories about the young American were penetrating in telephone nets. " Cuban" moods were very strong among the people. Some of them claimed in good earnest that in Cuba dog owners feed their pets with dog meat (and not every day), therefore Cuban dogs are always hungry and bad-tempered, but satisfied Americans produce just exterior non-fighting dogs. Near the New Year, 1994, these talks began touching human interests. The situation happened to be very funny.


Once people who hold long lasting negotiations with Red Alert's owner on the occasion of puppy purchase and they'd lived at her home for 2 days and then set off to buy "Cuban". So it so happened than right after celebration of New Year, 1995 these people and the owner of Red Alert were involved in amazing" sparring". A Cuban opponent had a great fighting experience to the moment of contact and was considered a dangerous "destroyer". It is probable that it was exactly like that.

Only in this case he could not demonstrate even half of his abilities. Red Alert surprised not only numerous audiences but his owner as well. He was suspected to reveal or not all his match capabilities for first 10 minutes. This could permit him ( due to public opinion) to turn into working pitbull out of " sofa" dog. On the 10th minute of the contact it became clear that Red Alert only began being interested in the match, on the 44 th minute after crushing attacks into the head, passages into the chest and the legs, "great Cuban" was removed by his owner. So, it was the first time when there was the assurance that red Alert was a pitbull who wanted to win!!

HOT! OUR TOP BEST SELLERS